Island Home Country
A poetic cine-essay about race and Australia's colonised history and  how it impacts into the present
(52mins 2008)
Memories waking us up to face history  "Deep in the Tasmanian bush a dreamer is pursued by reality: 'I am white, born on a stolen island'. So begins Jeni Thornley's complex journey through a latent Australian story 'a shedding of skin, a colonial layer, to see with different eyes, to reckon with amnesia'. Using a mix of narrative and interviews within a film-essay structure, Thornley positions herself both in relation to Aboriginal history, philosophy, and society, and that of her own family and society as the 'interloper', the accomplice to 'ethnic cleansing' and the 'theft of millions of hectares of land'. She addresses the personal tensions between the privilege of her perceived whiteness and the political reality it creates for Aboriginal people, exposing the underpinning instability of this existence through the perceptions of friends, relatives, and others. Connections made along the way between historical and contemporary local, national, and global events produce a broadened political perspective. There is a cathartic retelling andanalysis of personal memories and collective histories in the film's movement from past to present and back again, as Thornley seeks a resolution to the ongoing ethical dilemma surrounding the occupation of Aboriginal lands. The Aboriginal response to her enquiry is constant throughout her journey and, in the end, offers the only possible solution." Christine Peacock, Colourise, Brisbane International Film Festival.
Island Home Country is working with protocols in Respecting Cultures, Working with the Tasmanian Aboriginal Community, and Aboriginal Artists, Arts Tasmania Aboriginal Advisory Committee. A percentage of distribution returns go to Tasmanian Aboriginal  Land and Sea Council

Awards and Screenings
Nomination, Australian Screen Sound Award, Best Achievement in Sound for a Documentary
UTS Reconciliation Award, High Commendation, UTS Human Rights Awards
ABC TV 1 & 2 national broadcasts 2009-2012
International Anthropological Film Festival, Ho Chi Minh City, Vietnam –VICAS, Vietnam Instit of Culture and Arts Studies.
NAIDOC Week, Riawunna, University of Tasmania
'Re-Orienting Whiteness', Australian Critical Race & Whiteness Studies Assoc, Monash University
Study Guide: Island Home Country by Australian Teachers of Media available here.
Book chapter: Island Home Country, 'Working with Aboriginal protocols in a documentary film about colonisation and growing up white in Tasmania' is published in 'Passionate Histories Myth, Memory and Indigenous Australia', (eds) Peters-Little, Curthoys & Docker, Aboriginal History Monograph 21 ANU Press, 2010 (eBook).
Book chapter: 'Island Home Country': On the possibility of praxis between "artefact" and "exegesis" in the creative arts doctorate: a case study, Doctoral  Writing in the Creative and Performing Arts, L. Ravelli et al. (eds.), Libri, UK., 2014. http://www.libripublishing.co.uk/Products/ProdID=115
Article: Islands of possibility: Filmmaking, cultural practice, political action and the decolonization of Tasmanian history, Studies in Australasian Cinema, Decolonizing Screens, 7. (2) 2014. http://www.tandfonline.com/doi/pdf/10.1386/sac.7.2-3.123_1
Book chapter: Lisa Slater, 'Waiting at the Border: White Film-making on the Ground of Aboriginal Sovereignty' in Decolonizing the Landscape: Indigenous Cultures in Australia,eds., Beate Neumeier, Kay Schaffer, Amsterdam : Rodopi, 2014. http://www.amazon.com/Decolonizing-Landscape-Indigenous-Cultures-Australia/dp/9042037946
PHD thesis: 'Island Home Country'– Subversive mourning: working with Aboriginal protocols in a documentary film about colonisation and growing up white in Tasmania. A cine-essay and exegesis https://opus.lib.uts.edu.au/handle/10453/36070
Interview: ABC Drive, (Tas) Jeni Thornley's new view of Tasmania: Jeni discusses the making of Island Home Country and 'the silence' around First Australians culture in 1950s Tasmania.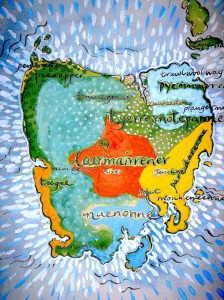 …and so it was with life that water is alive to touch us all in this life where people began to grow…
water 
by Jim Everett – pura-lia meenamatta