2021  memory film: a filmmakers diary is my current film in post production – an immersive, poetic diary film about transformation and 'the personal is political', composed of images from my Super8 archive filmed during 1974-2003. See memory film on Documentary Australia Foundation (DAF) and to make a donation.
News!  Brazen Hussies (dir Catherine Dwyer): cinema release, festivals and ABC screenings. Brazen Hussies is a documentary feature about the revolutionary chapter of the Women's Liberation Movement (1965 -1975);  I am one of many activists interviewed for the film; I briefly discuss an Anti-Vietnam War street theatre group I performed in, and my involvement in the 1970s abortion rights campaign ; in fact, my discussion of an abortion in 1968, when abortion was illegal and a criminal act,  has stirred up a lot of complex emotions; perhaps this is necessary – indicating that it is still a very complex site for me and many women. 
My recent writing 
See my Documentary blog 
Intertextuality in Margot Nash's 'The Silences'.
Feminism & Film: Sydney Women Filmmakers, 1970s & 1980s Sydney Film Festival 2017.  Three Retrospective programs including  'Film For Discussion' (1974)  Sydney Women's Film Group, (dir) Martha Ansara; and the 1983 collaborative feature documentary 'For Love Or Money: A History of Women And Work in Australia' .
Essay on my film Still Life (made with Dasha Ross in 1974 ), 'Looking at Women', Peephole Journal investigates the "original intentions of challenging the male gaze. Criticised at the time for perpetuating the sexual objectification of the female body, Thornley counters this now, in 2017, by arguing for the film's 'collaborative gaze',  one that is shared by the women behind and in front of the camera".
Melbourne Women in Film Festival (MWFF) screened Still Life, March 2017.  In online mag 'Mojo News' Emily Burkhard reviews 'Still Life' as "raw and evocative", along with a discussion of the contemporary films screened: Clare Ferra's 'Progressive Evolution; (2011) and 'Love Oscillation' (2012), and Amie Batalibasi's 'Lit' (2016). "The festival stood out for its series of informative and insightful panel discussions during the two-day inaugural showcase – on the role of women in screen culture, how this has evolved from the days of the 1975 International Women's Film Festival."
Public screening and discussion: Island Home Country (52 min). Monday 14th March 2017, Mona Vale; hosted by the Aboriginal Support Group – Manly Warringah Pittwater (ASG). ASG started in 1979 as a treaty organization and later developed into a group of people committed to supporting Indigenous Australians in their broader struggle for justice.
Public screening and discussion: Island Home Country (52 min. film & thesis, DCA UTS 2011), Screening Indigeneity Series, Menzies Centre for Australian Studies & the Department of Film Studies, King's College London, September 15th 2015.
For Love or Money, (dir. McMurchy, Nash, Oliver, Thornley), 2nd International Women's Film Festival Bangladesh, Seminar Hall, Central Public Library, Dhaka, 16th March 2015.
Curator & Panelist, 'Women's Gaze and the Feminist Film Archive', Future Feminist Archive, Art Gallery of NSW and Sydney College 2015.
Delegate, Critical Thought Versus The Capitalist Hydra, CIDECI, Universidad de la Tierra Chiapas, Mexico, May 2015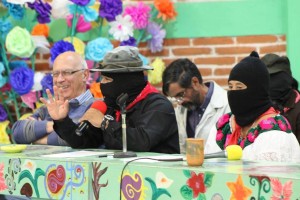 Maidens (dir. Thornley 1978), Retrospective Screening, Films from the Co-ops Part 1, Melbourne Cinémathèque, ACMI Cinemas, Federation Square, Melbourne, May  20 2015.
Referee reader for monograph, Robots and Art: Exploring an Unlikely Symbiosis (eds.), D. Herath, C. Kroos & Stelarc, Springer 2015.
Interviewee: In New Zealand, the Activist Complex Female Protagonist Whispers, (Marian Evans). Research Report on the New Zealand Film Commission's Gender Policy, 2015
Interviewee, When the Camera Stopped Rolling (dir. Jane Castle). A documentary feature film about Lilias Fraser, pioneer of the Australian documentary film industry. Screen Australia and Documentary Australia Foundation (DAF), 2016
Interviewee, A Filmmakers' Cinema: 20 Years of the Filmmakers' Co-operatives (dir. John Hughes & Tom Zubrycki), a documentary film-archival project, 2016.
Interviewee (audio), Genealogy of thought-practice: sexual difference (Dir.Alex Martinis Roe), an arts based documentary film, 2016.
Member Filmnews Digitising Collective: a project to digitise the collection of Filmnews via the National Library of Australia's Australian Newspapers Digitisation Program. Finance raised from various sources, including Australian Directors Guild (ADG) 2016.
The original Film News Collective c1980